Usage of the Customer Account EN
Read this guide.
Visit the MUSIC2BIZ Homepage
Navigation to the customer account www.music2biz.com | Click on "Login" in the top navigation bar.
Log in with your customer access data
Enter your MUSIC2BIZ customer access data.
Select a music program
The direct links to the respective music programs can be stored in Internet radio stations as radio stations.
In the backend for Sonos speakers, these MUSIC2BIZ streaming URLs can also be stored as separate radio stations.
Music selection for hardware players via streaming URL
The direct links to the respective music programs can also be saved as radio stations for the streaming hardware players.
On the profile page you can view and update your data
Overview of current subscriptions
Auf dieser Seite können Sie die Anzahl der von Ihnen abonnierten Musik-Flatrates verwalten. Sie können Musik-Flatrates abbestellen oder weitere Flatrates hinzubestellen. So wie es Ihr Bedarf erfordert.
Archive page for your invoices and GEMA certificates
Invoice and certificate archive: On this page you can download your invoices and your GEMA / AKM / SUISA exemption declaration as a PDF file.
On this page you can create and manage your playlists
Our online tool "Playlists" allows you to create your own music programs free of charge based on our extensive music library. In this way, you can create very special music programs for individual business areas or for different locations or simply for different times of the day. In addition, you can upload your own commercials and integrate them into your playlists (see also the navigation point "Spots").
You can upload your own commercials on this page
You can quickly and easily upload your own advertising spots to your customer account using our "Spots" tool.
You can also use our spot tool to plan the insertion of your spots to the minute.
Here you can create the schedule for your advertising
You can plan the broadcast times of your own commercials to the minute here.
Activate and deactivate your spots in the commercial archive
Your uploaded advertising spots are made available to you as an archive. You can activate and deactivate your spots as you wish.
You can cancel your subscription within the trial period with a button click
During the free trial period you can cancel your subscription at any time by simply clicking on the Cancel button.
After the free trial period has expired, you can only cancel your subscription by email or post.
Download the free player
The MUSIC2BIZ App is free for customers. It is available as desktop version or as mobile player. The app can be downloaded from the customer account or from the App Stores of Apple (IOS) and Google (Android).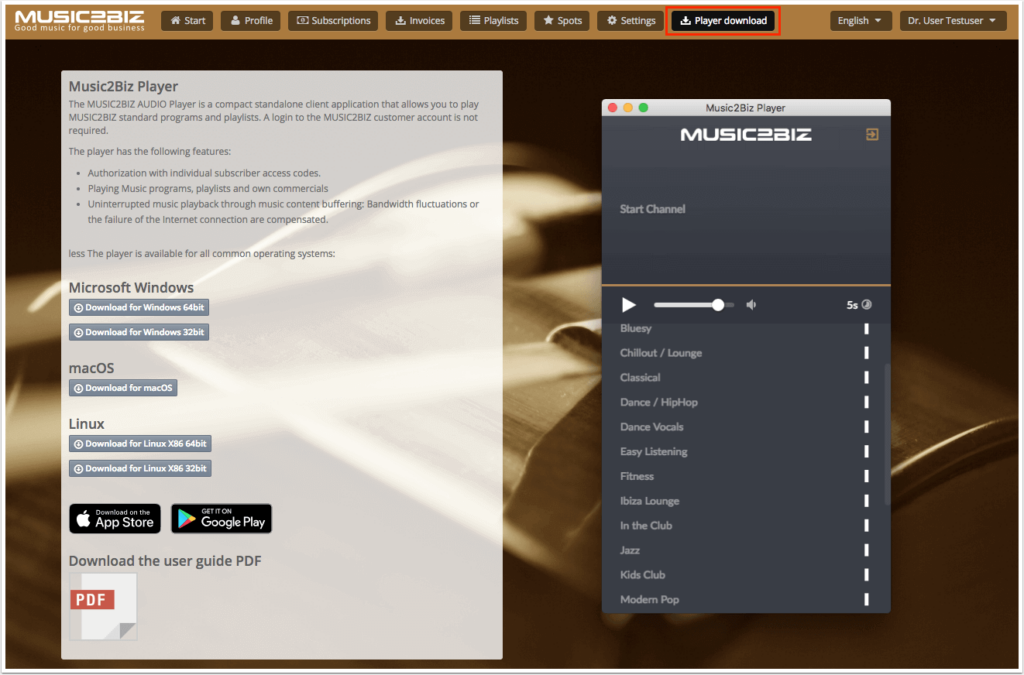 Die Auswahl der Playlisten im Player konfigurieren
You can select which music programs are displayed in the player app via "Channels" using the slide switch: Hidden channels = HIDDEN / playable channels = VISIBLE