Please read this first:
How to avoid problems with collecting societies.
To avoid problems with your rights management organisation, you should only consider using Sonos speakers if you can ensure and prove that your Sonos system plays only royalty-free music.
We recommend using a closed system that does not support the use of licensed music.
You can set up such a system using our hardware players, for example. You do not need Sonos speakers to do this.
Visit the Sonos Support website
Visit the Sonos download page and download the Sonos Controller App to suit your operating system and speaker generation (S1 or S2).
If you have installation problems, please contact Sonos Support. German Sonos Support or International Sonos Support.
Prerequisite for this tutorial: Your Sonos S2 system is set up and ready to use.
You can also get help setting up your Sonos system and using our streaming URLs on the Sonos website.
Registration for the MUSIC2BIZ customer account
Log in to your customer account.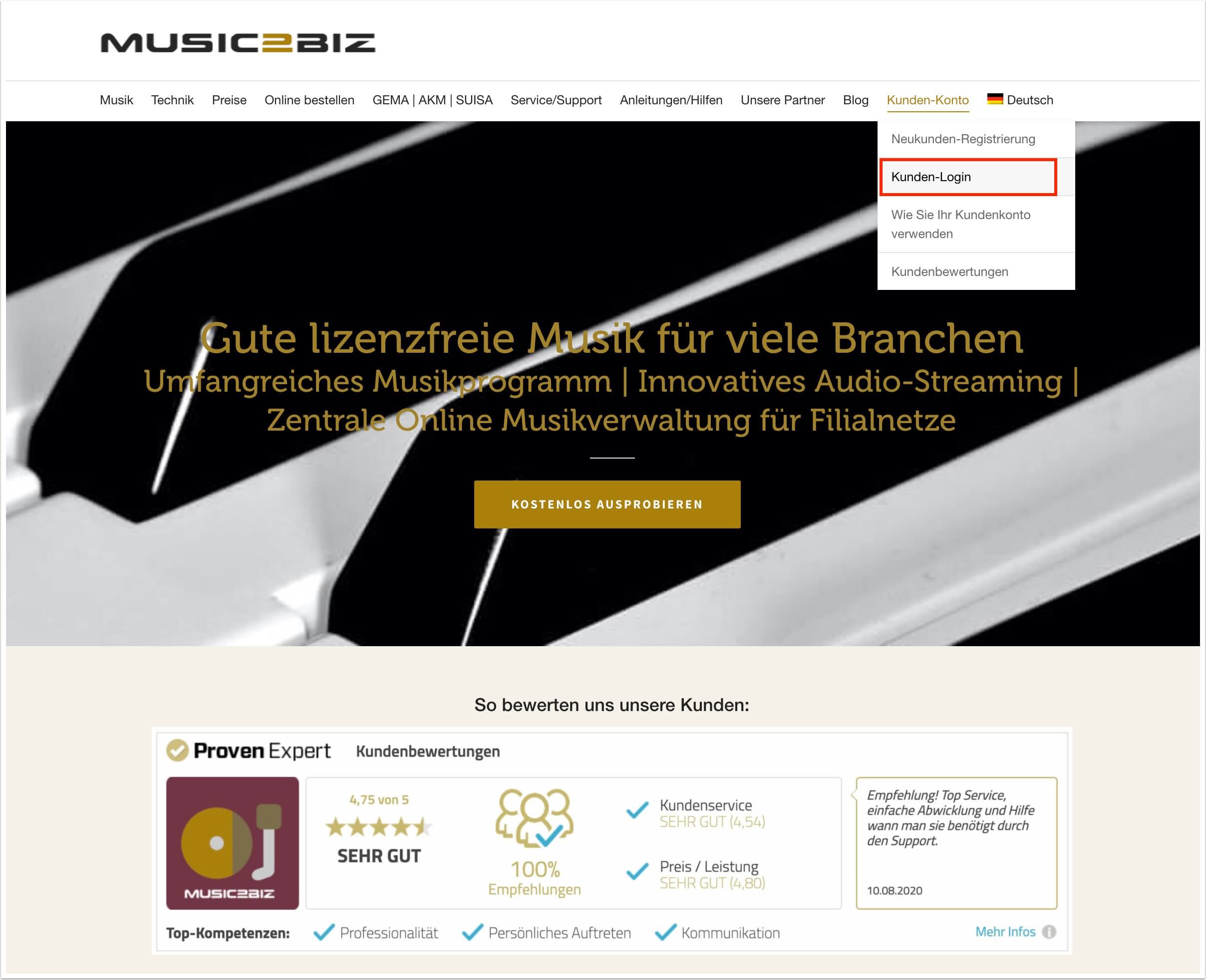 Log in to the MUSIC2BIZ customer account
1.1.1
Loggen Sie sich mit Ihren MUSIC2BIZ Kunden-Zugangsdaten in Ihr Kunden-Konto ein.
Music programme selection in customer account
The music programme page in the MUSIC2BIZ customer account
The music programme page opens. Here you can see all the programmes that you can play immediately. You can listen directly to all programmes and make your choice.
For example, select "Black Smooth". Click on the yellow button for your tariff choice. This will open the subpage with the Black Smooth music player.
visit the subpage with the music player
Start the stream by clicking on the white play arrow to hear if you like the music programme.
In the following we assume that you have chosen the Black Smooth stream, switch to the page "Stream URLs".
Visit the "Stream URLs" page
See the Stream URLs page for all stream URLs you can use.
If you have subscribed to different rates for different sizes of space, use the tabs at the top of the page to first select the rate you want to use for your Sonos sound reinforcement.
If you want to use multiple URLs with Sonos in turn, save all URLs you want to use in your text file. To do this, select the URL(s) you want to save in the Sonos app one at a time, copy the URL to your cache and paste it into the text file. Once all of the URLs are pasted, you should save the text file.
Stream selection made and save to text file
After you've made your stream selection and saved it in the text file, go back to your Sonos S2 app.
The Sonos S2 App View (MacOS)
Sonos offers the ability to store your own stream URLs via TuneIn, for which you will need a free TuneIn account. If you don't have a TuneIn account, you can register with TuneIn directly from the Sonos app.
To use TuneIn, you must add it as a service to the Sonos app. Click on "Add service" in the right menu.
Add TuneIn as service
This opens the list of service providers that can be enabled in the Sonos app.
Scroll down the list until you see TuneIn. Click on TuneIn. A pop-up window opens.
Login or register with TuneIn
Log on to TuneIn or register.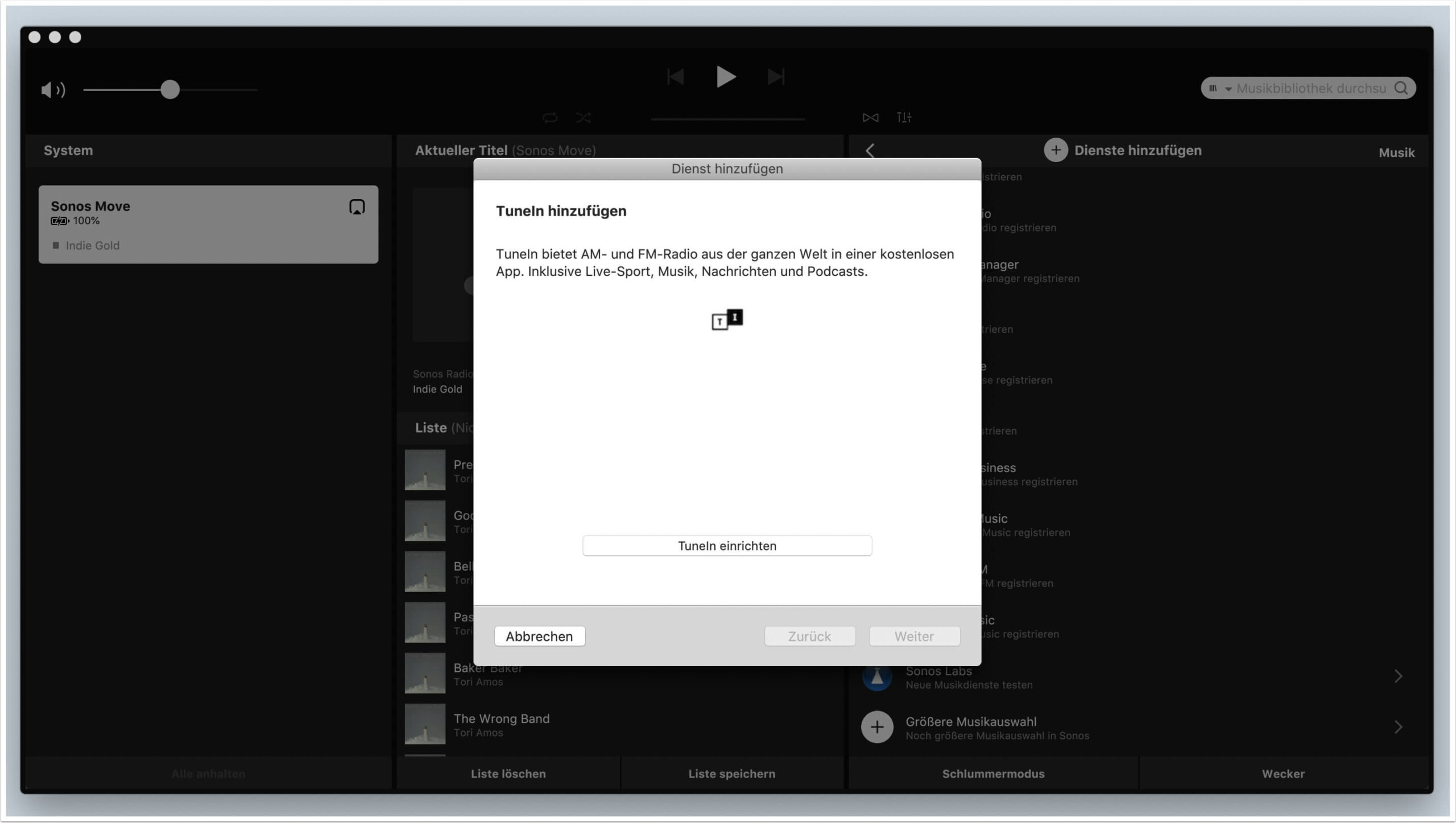 Use TuneIn
TuneIn is set up and can be used
After successful registration you can now register the MUSIC2BIZ stream URLs for the Sonos App using TuneIn.
Select TuneIn as music source
You have added TuneIn to your music sources in the Sonos app
Now you can add the MUSIC2BIZ programmes to your TuneIn account.
the "Music sources" view
Select TuneIn as music source
In the "Music Sources" view, click on "TuneIn" and in the subpage that opens, click on "My Radio Stations".
MUSIC2BIZ-Stream-Urls as radio station
MUSIC2BIZ stream urls as Sonos radio station
Here you can save the MUSIC2BIZ stream urls as radio stations.
Save stream URL as radio station
Saving a MUSIC2BIZ stream URL as a radio station
In the pop-up window, insert one of the stream URLs saved in your text file and give the stream a suitable station name. Click OK to save the new station. For each MUSIC2BIZ stream URL that you want to use as a radio station on Sonos, you will need to repeat this process once.
"Black Smooth" is saved
Your new radio station "Black Smooth
Your radio station "Black Smooth" has been saved and can now be accessed at any time in the "My radio stations" section. You can also mark your radio stations as favourites.
Marking radio stations as favourites
Your Sonos favourites
Under "Select Music Source" => "Sonos Favourites" you will find your radio stations marked as favourites.
"Black Smooth" as favourite
Your station favourites Example
Here you can now see the MUSIC2BIZ programme "Black Smooth" which is marked as a favourite
Graduate of the MUSIC2BIZ Tutorial College
Congratulations: You are now an official graduate of the MUSIC2BIZ Tutorial College.